Partner Programs
Partnerships & Outreach Programs
USA Archery
Headquartered in Colorado Springs, Colo., the National Archery Association, known today as USA Archery, was formed in 1879 to foster and promote the sport of archery. USA Archery is the National Governing Body for the Olympic sport of archery.
USA Archery is the organization recognized by the U.S. Olympic Committee for the purpose of selecting and training men's and women's teams to represent the U.S. in Olympic Games, Paralympic Games and Pan American Games. USA Archery also selects teams for World Championships, World Cups and other international competitions annually. Membership in USA Archery is open to everyone involved in all disciplines of archery.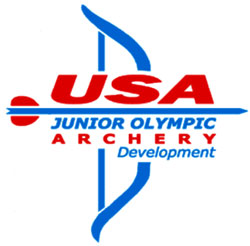 Junior Olympic Archery Development (JOAD) is a program of USA Archery that teaches archery to young people, provides great opportunities for awarding achievement, and helps archers to enjoy the sport recreationally or progress to the excitement of competition!
JOAD offers both recurve and compound archers the opportunity to learn range safety and proper shooting technique in an environment that also fosters focus, increased self-confidence, and team building skills. JOAD is open to any youth archer aged 8 to 20 and is designed to grow with the youth archer. Introductory JOAD classes teach the fundamentals of proper shooting form; as the young archer develops, they will learn more advanced techniques.
Explore Archery is an innovative education program focused on introducing beginners of all ages and abilities tothe lifelong sport of archery. Together, we believe that Explore Archery serves as a foundation for the development of community based archery programs nationwide and will help grow a new generation of archery enthusiasts and Olympic, Paralympic and World Champions!
Paralympic Archery, based in Colorado Springs, Colorado, U.S. Paralympics, a division of the nonprofit United States Olympic Committee, is dedicated to becoming the world leader in the Paralympic Movement and promoting excellence in the lives of people with Paralympic-eligible impairments, including physical disabilities and visual impairments. Archery has been a medal sport since the Rome 1960 Paralympic Games, which were the first Games held. the archery competition is open to men and women with physical disabilities including those with amputations and limb loss, spinal cord injuries and traumatic brain injuries. Athletes can compete either standing or in chairs.
Scholastic 3D Archery
The Scholastic Archery Association, DBA Scholastic 3-D Archery, is to foster, educate and guide youth in the area of 3-D archery. Scholastic 3-D Archery will design, promote and foster national youth and high school 3D archery competition as an after school program affiliated with educational learning institutions, sportsman's clubs and archery dealers. Archery School of the Rockies volunteered to start the S3DA of the Rockies organization in 2016 after learning we lacked a regional program. The program is building and chapters are being organized!
Children's Hospital of Colorado
Children's Hospital Colorado (Children's Colorado) has defined and delivered pediatric health care excellence for more than 100 years. Founded in 1908, Children's Colorado is a leading pediatric network entirely devoted to the health and well-being of children. Continually acknowledged as one of the nation's outstanding pediatric hospitals by U.S. News & World Report and ranked 5th on its Best Children's Hospitals 2015-16 Honor Roll, Children's Colorado is known for both its nationally and internationally recognized medical, research, education and advocacy programs, as well as comprehensive everyday care for kids throughout Colorado and surrounding states. For more information, visit www.childrenscolorado.org and connect with Children's Colorado on Facebook, Twitter and Pinterest. Archery School of the Rockies sponsors an annual car show and archery tournament to support the great work Children's Colorado does for the kids in our state.

Mule Deer Foundation

The purpose of the Mule Deer Foundation is to ensure the conservation of mule deer, black-tailed deer and their habitat. ASR partners with the MDF promoting their conservation efforts and volunteering at the annual M.U.L.E.Y Kids Day which provides an introduction to shooting sports and wildlife conservation programs. ASR coaches conduct all archery safety and introduction sessions for the annual event.
Toys for Tots
The mission of the U. S. Marine Corps Reserve Toys for Tots Program is to collect new, unwrapped toys during October, November and December each year, and distribute those toys as Christmas gifts to less fortunate children in the community in which the campaign is conducted. ASR was pleased to partner with the U. S. Marine Corps Reserve Toys for Tots program in 2015 by hosting an open archery tournament between archery clubs, a 2-month toy drive, and a 2-day open house offering free archery lessons with any toy donation. We look forward to continuing our efforts to help the Marine Corps Reserve brighten the lives of children at Christmastime.
El Paso County

Archery School of the Rockies is proud to partner with El Paso County and provide the county summer archery programs at Bear Creek Regional Park.

City of Colorado Springs
The Therapeutic Recreation Program (TRP) provides opportunities for youth and adults with disabilities to acquire skills that enable them to participate in leisure experiences of their choice and enhance their abilities to function within a community setting. The TRP has partnered with U.S. Paralympics to offer adaptive sports programming for community members and veterans who have a physical disability.